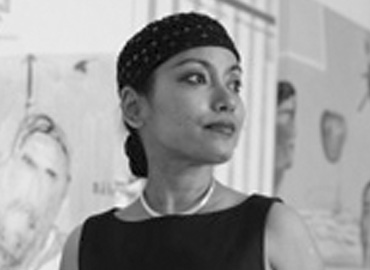 Murshida Arzu Alpana
Born in Dhaka, Bangladesh
Educational Background: 1977 S.S.C. Exam in Dhaka, Bangladesh 1983 Bachelor of Fine Art, Institute of Fine Arts, University of Dhaka, Bangladesh 1988 Master of Fine Art, guided by Prof. K. G. Subramanian, Visva-Bharati University, Santiniketan, India 1997 Bachelor of Experimental Art in the context of Contemporary Art, by Prof. Karl Horst Hödicke, Hochschule der Künste, currently UdK- Universität der Künste Berlin, Germany 1997 - 98 Master of Experimental Art, by Prof. Karl Horst Hödick, HdK, currently UdK Universität der Künste, Berlin
Commission work (selected): 1983 - 93 received commission work on oil painting for the national and international portrait gallery at the national Museum of Bangladesh, and Ahsan Manjeel Museum in Dhaka 1994 - 99 Commissioned in Silk Screen Print for twice by Griffle Kunst in Hamburg, Germany 2001 Commissioned in Silkscreen print, by CECMG for Expo 2001 in Hannover, Germany
Scholarships/Residency: 1986 - 88 I.C.C.R. Scholarship, India 1993 - 95 DAAD Scholarship Berlin, Germany 2010 Artist Residency "Meet Factory", Prague, Czech
Awards/Honours (selected): Since 1979 has received several international and national awards in Paintings, Prints, and Drawings, among them Best Overseas Artist Award in London, ROSL ARTS, U.K.; All media's. best work in Oil; Best work in oil; 2nd award in Miniature Art in Toronto, Diploma of Excellence Award, Art Now3 in London.
2006 She received Best Artist Award in Bangladesh, etc. inclusive more. 2010 She was invited to join being personally introduced to her Majesty the Queen Elisabeth at the 100 year's celebration of culture (Centenary), as a distinguished artist, London. 2013 Her work got recognition as Masterpiece amongst 512 artists around in world, in a book "Women in Art", by the Author Reinhard Fuchs in Austria.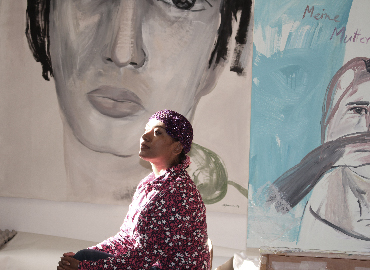 Exhibitions: She held above 30 solo and have taken part into approx.90 group shows in museums, galleries, international art fair in Europe, U.S.A, Africa and Asia.
Collections: Her work of art has been collected in Museums, in different countries around in world.
Professional experiences and others: 1989 - 92 Illustrator/Artist in Bangladesh National Herbarium, Dhaka 1992 - 93 Lecturer of the Institute of Fine Art, University of Dhaka 2006 visiting teacher at Fashion Design Dept. at S.M.U.C.T, Dhaka
Since 2005 she has been teaching the Master Degree students, at the University of Development and Alternative (UODA), Dhaka, Bangladesh
Enlisted Classical/Nazrul's songs singer (classical music in Bangladesh, Pakistan and India) of Bangladesh Television and Radio Bangladesh Dhaka, since 1973. Received several awards in music.
Fond of writing poetry and short stories for her own.--
"An eye for the world"
For twelve years now, Murshida Arzu Alpana has lived in Berlin, organizing her work between this Western metropolis and her home city, Dhaka, in Bangladesh. To overcome the distance between these two very different worlds was a challenge for Alpana, but it must be said that she has truly mastered this task by painting in a most expressive way, through which she presents dialogue, conflict, her origin and her dedication.
What Alpana brought to Germany and is to be regarded as her heritage is an eye for colour, which is the essence of her paintings. She places colours in juxtaposition and shows the relationships between colours. From the very beginning, her works have revealed a great self confidence in working with a palette, which may appear as exotic in Germany. The first works I had the opportunity to view in her studio back then were always characterised by light.
The narration of her paintings is arranged in a way that there is an overlapping of scenes, which can be seen in visual illustrations in all cultures.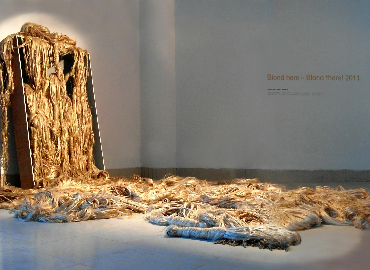 In frieze-like depictions, figures appeared in a way to the Western viewer that is comparable to the familiar 'genre of comics'. But more generally, the origin of the figures could be seen to be in archaic sgraffito drawings, whereby within the work of Alpana, colours within the contours overcome the archaic impression, appearing more typical of an ever-contemporary Expressionism. Essential, at any rate, is the simultaneity of various different moments. The figures can be seen like pictograms, reduced to their emblematic existence. Standing, lying, turning or fragmented, the figures dominate the canvas within a space of colour, which does not reveal any spatial perspective.
Over the years, Murshida Arzu Alpana has changed her approach towards the depiction of the representation of figures. It is now reduced to the presentation of heads, which show a certain monumentality in the pictures. But these heads, which, by their titles, are assigned the function of portraits, do not depict any physiognomy or mimetic reproduction. Alpana develops the individuality of the depiction solely out of gesture; out of what is characteristic in contour and motion, using colour to amplify this into a mood. The actual representation of a figure remains anonymous, as if Alpana wanted to protect its feelings, which is expressed in the colour. Herein lied the contradiction and also the fascination of Alpana's pictures; they directly depict emotions, only to protect them from being in too direct contact. There is an inner distance, which portrays the distance in Murshida Arzu Alpana's life. The emotionality and expressive power in Alpana's works is achieved exclusively through the effect of the colour in which all the motives are embedded.
In her paintings, backgrounds are interwoven with the clothing of the figures and the ornamental structures are also being seen as structures of space. This artistic concept now allows more for a sense of spatiality than in her earlier works. Alpana's works today are perhaps more an approach to perspective, which can be regarded as a "Western" influence; but they are still dominated by colour and the flatness of the figures in it, which can be seen as a typical eastern impact. The tension between these two very different cultures, which Alpana is dealing with, has intensified her observation, her existence and her artistic views, which all have contributed to Alpana's amazing eye for the world.
Dr. Friedrich Meschede, Head of the Department of Visual Arts, Artists-in-Berlin Programme, DAAD, Translated by Mitch Cohen and Emma Watson